Even although the Nature Reserve keeps a close watch on Pinel Island; it still remains a highly fragile site.
As it is a very popular spot and relatively near to the coast, it is vulnerable to possible pollution, especially the marine environment.
In order to make an accurate assessment of the seabed around the island, the Nature Reserve gave Aurélien Schmitt the task of mapping out the benthic zones around Pinel, ie: living ground cover on the seabed (coral, sea grass and algae...).
In his second year of Masters for «Expertise and management of the coastal environment» at the Faculty of Brest, he has six months, from March, to fulfill his mission, which is based on three components: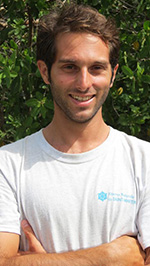 to create a map of the benthic zones around Pinel
assess their condition,
indicate all emblematic species on the map, such as Elkhorn coral Acropora palmata.