The workers guild between managers of protected natural sites allows these professionals to share their practices, to benefit from the experience of others and to help others benefit from their own experience. Thus, Soraya Issop Mamode, Director of GIP - management body of Reunion's National Marine Nature Reserve in the Indian Ocean - and Yanick Clain, Head of the Reserve's Police and Surveillance Unit, were welcomed by the Saint-Martin Nature Reserve for one week in early June 2013, after having spent the previous week in two of Guadeloupe's reserves; Petite-Terre and Désirade. Management of marine protected areas was the focal point during these exchanges, as well as the protocols put in place to ensure that reserve visitors comply with regulations. Reunion's Director was greatly interested in the maritime passenger levy applied in Saint-Martin, and in Petite-Terre, as during these times of fiscal restraint they too are trying to increase the share of self-financing in their annual budget. In turn, Reunion's reserve was approved to provide vocational training in 2011, allowing it to offer training courses on coral reefs, the marine zones in Reunion or the coastline along the west coast of the island, to people interested in doing these courses within a professional context. In 2012, all of Reunion's Investigating Commissioners went on training courses, and in 2013, lookouts from associations and surfing leagues, responsible for shark risk prevention surveillance, were trained up by the Reserve. Several towns are now interested in this training course related to shark risks.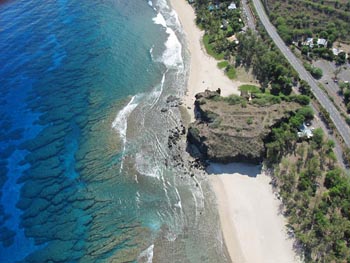 Le cap Homard, La Réunion © B. Cauvin
Spread out over 3,500 hectares and five municipalities, Reunion's Marine Reserve is surrounded by 40 kilometers of coastline and employs 15 staff members. 3,500 fauna and flora species have been recorded, and the recording continues! The Reserve works with a budget of 1.02M€, which is proportional to its functions and existing equipment, co-financed by the State, the Region, the Department and the five municipalities. It is home to 40 surfing spots, 58 diving sites, a range of water sports (kayaking, stand-up paddle...), sea excursion operators and fishermen, fishing is allowed there, but it is closely regulated. By comparison, Saint-Martin's Reserve covers 3,060 hectares, of which 2,907 hectares are at sea, it employs 7 people and worked with a budget of 420,000€ in 2012, 63% State financed, and 35% self-financed.